MARIPOLDATA OCEAN SEMINAR SERIES
MARIPOLDATA Ocean Seminar Series
The world's oceans are home to prestige ecosystems and marine biodiversity. The majority of the oceans are not under the jurisdiction of any state. Therefore, regulations to protect and use the ocean's resources and space need to be agreed on an international level. The United Nations are currently negotiating a legally binding agreement for the conservation and sustainable use of marine biodiversity in areas beyond national jurisdiction (BBNJ) to close gaps in the existing institutional frameworks and set regulations for the protection and further exploitation of common ocean resources.
The monthly MARIPOLDATA Ocean Seminar Series offer a virtual space to get information about timely ocean governance issues, through presentations by international experts from academia, governments, and civil society. They cover recently published political science peer-reviewed articles, policy briefs and other publications relevant to global ocean governance.
Throughout the year, the Ocean Seminar Series will combine input from academics and practitioners on a range of ocean topics, including the ongoing negotiations for the conservation and sustainable use of marine biodiversity beyond national jurisdiction (BBNJ) and specific package elements (Marine Genetic Resources, Area-Based Management Tools, Environmental Impact Assessments, and Capacity Building and Transfer of Marine Technology), and overarching ocean governance topics, such as Ocean pollution, Ocean and Climate Change Nexus, Maritime Crime etc.
Aims:
• provide room for debate on recent publications in the field of ocean science and politics with specific emphasis on ocean protection, sustainable development and SDG14
• facilitate dialogue between different disciplines and research areas and
• increase interdisciplinary exchange between scholars interested in ocean-related issues.
The ocean Seminars are open to anyone interested in global environmental governance and ocean issues from all academic backgrounds.
Target Group:
The sessions are meant for researchers of ocean/climate/biodiversity/earth system governance-related fields from natural and social sciences and law. The Ocean Seminars are interesting for policymakers from international UN processes or regional and local institutions regarding ocean governance, representatives of non-governmental organizations interested in protecting our planet, and supporters of a sustainable blue economy.
Anyone interested in ocean-related issues and research and in reading and discussing recent literature in the field. All disciplines are welcome.
Apart from the monthly information input, they constitute a space for an exchange of most recent scientific findings, the continuation of academic debates, the formation of a strong network of people with various backgrounds, and hopefully the development of new ideas to encourage a healthy way of living in harmony with the ocean.
How to join?
If you are interested, please contact Ina Tessnow-von Wysocki (ina.tessnow-vonwysocki@univie.ac.at) indicating your name and institution to be added to the MARIPOLDATA Ocean Seminar Series´ mailing list and receive the dates for upcoming meetings and the reading material.
NEW PROGRAMME September 2021 – January 2022: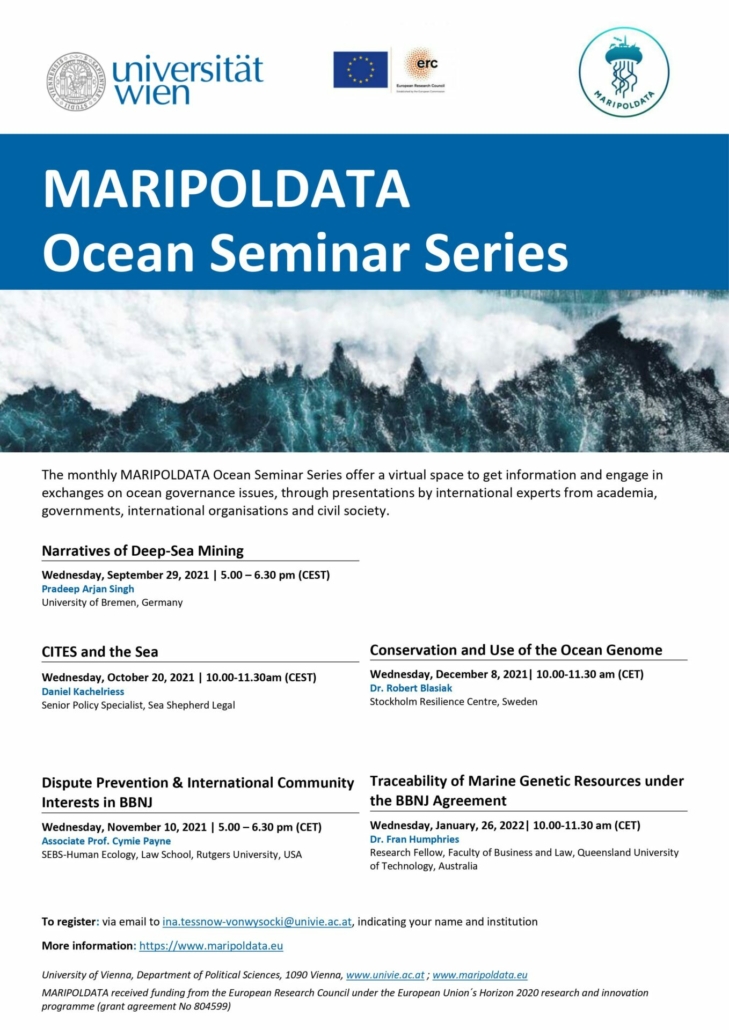 "Deep-Sea Mining and the International Seabed Authority" with Pradeep Arjan Singh - Ocean Seminar - 29.09.2021
Deep-Sea Mining and the International Seabed Authority:
Recent Developments, key outstanding issues and contrasting narratives
Date: Wednesday, 29 September 2021
Time: 5:00-6:30pm (CEST)
Venue: Virtual Meeting
Pradeep Arjan Singh, is a doctoral candidate at the University of Bremen, Germany and an independent research consultant. His areas of expertise are public international law, the law of the sea, international environmental law, climate policy, and ocean governance. Pradeep has spent the last five years working on legal and regulatory aspects of deep seabed mining and the conservation and sustainable use of marine biodiversity in areas beyond national jurisdiction.
Recent years have witnessed a rapid increase in interest to exploit the mineral resources of the deep ocean. Deposits located at depths greater than 200 m, such as polymetallic nodules, polymetallic sulphides and ferromanganese crusts, are known to consist critical and valuable metals such as nickel, copper, cobalt and manganese. Minerals in seabed areas beyond national jurisdiction, designated as the common heritage of humankind, are currently at the centre of attention as negotiations on regulations to facilitate exploitation activities are ongoing at the International Seabed Authority (ISA).
This presentation is divided into two parts. The first part will highlight recent developments at the ISA, whereby the recent invocation of a treaty provision known as the 'two-year' rule by the Republic of Nauru has necessitated the Council of the ISA to make haste with the negotiations of the exploitation regulations and complete the same by July 2023. In this respect, the presentation will discuss some of the key outstanding issues that remain unresolved as the Council of the ISA sets out to meet this seemingly insurmountable task before the deadline.
The second part of the presentation will delve into some narratives on deep-sea mining that have recently found their way into the ISA. This includes the discourse that deep-sea mining is essential to achieve the clean energy transition or that it is socially beneficial and environmentally friendly (at least when compared to terrestrial mining) and therefore sustainable on the one hand, and weighing some of these portrayals against marine conservation concerns and increasing calls for a moratorium on the other hand.
If you want to join please contact: ina.tessnow-vonwysocki@univie.ac.at
Downloadable Flyer here: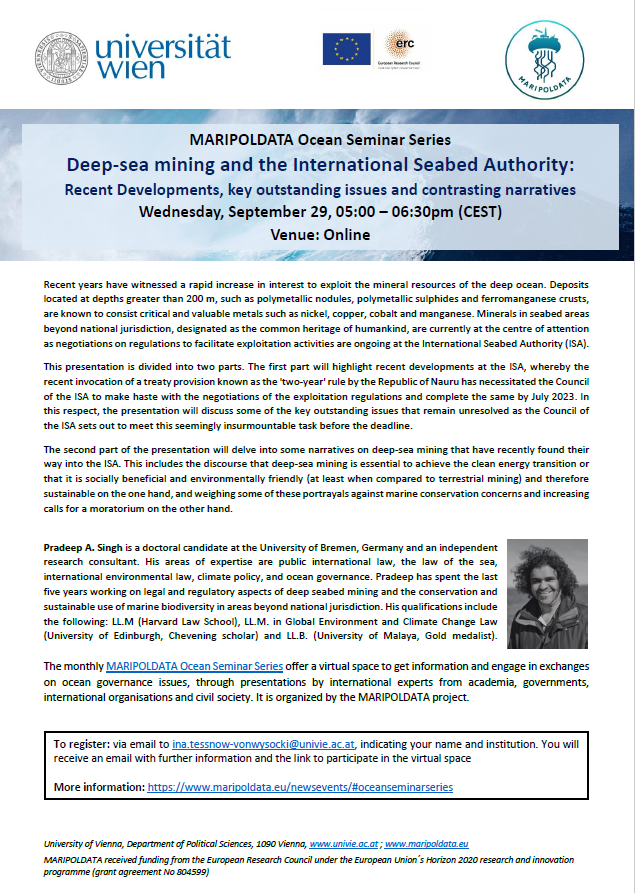 "CITES and the Sea" with Daniel Kachelriess - Ocean Seminar - 20.10.2021
Date: Wednesday, 20 October 2021
Time: 10:00-11:30am (CEST)
Daniel Kachelriess is Senior Policy Specialist at Sea Shepherd Legal and has previously served in several roles at the interface between science, policy and law, including as Marine Species Officer at the CITES Secretariat and as Advisor to the Permanent Mission of the Republic of Maldives. In 2018 he attended the Rhodes Academy of Oceans Law and Policy.
The Convention on the International Trade in Endangered Species of Wild Fauna and Flora, short CITES, enjoys a reputation as one of the most effective international conservation tools and with 183 Parties, it is also one of the most universal agreements of its kind. CITES mandate is to regulate international trade in species listed on its Appendices to ensure that such trade is "not detrimental to the survival of the species in the wild".
When CITES was negotiated and subsequently signed in 1973 its drafters clearly recognized the potential application of the Convention for marine species and included provisions specific to that context. The most notable of those is "Introduction from the Sea" (IFS), which effectively gives CITES a mandate to regulate some high seas activities.
Despite this, CITES saw limited use in the international fisheries context with the exception of a few regionally important fisheries such as Queen Conch in the Caribbean. CITES CoP16 (Bangkok, 2013) proved to be a game-changer when Parties agreed on how to implement "Introduction from the Sea" in practice and decided to add several species of commercially exploited sharks and manta rays to the CITES Appendices. This trend was continued for subsequent CoPs (CoP17, Johannesburg, 2016; CoP18, Geneva, 2019), accompanied by dedicated capacity building from a range of actors to assist Parties to implement CITES for marine species.
This presentation will start off with a brief overview of key CITES' provisions, the history of marine species listings and insights from the related implementation support and capacity building activities. The second part of the presentation will discuss lessons learned from CITES against the backdrop of current policy processes and draw on two examples, a proposed wildlife protocol under the UN Convention against Transnational Organized Crime (UNTOC), and the new agreement on the conservation and sustainable use of marine biodiversity of areas beyond national jurisdiction (BBNJ).
If you want to join please contact: ina.tessnow-vonwysocki@univie.ac.at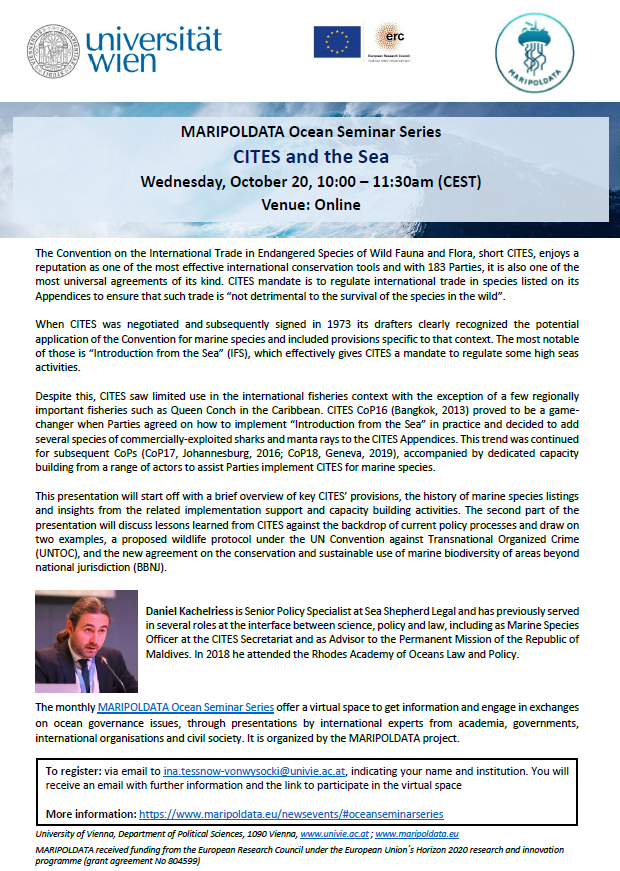 "Dispute Prevenation & International Community Interests in BBNJ" with Assoc. Prof. Cymie Payne - Ocean Seminar - 10.11.2021
Date: Wednesday, 10 November 2021
Time: 5:00-6:30pm (CET)
Associate Prof. Cymie Payne, SEBS-Human Ecology, Law School, Rutgers University, USA
More info coming soon
"Conservation and Use of the Ocean Genome" with Dr. Robert Blasiak - Ocean Seminar - 8.12.2021
Date: Wednesday, 8 December 2021
Time: 10:00-11:30am (CET)
Dr. Robert Blasiak, Stockholm Resilience Centre, Sweden
More info coming soon
"Traceability of Marine Genetic Resources under the BBNJ Agreement" with Dr. Fran Humphries - Ocean Seminar - 26.01.2022
Date: Wednesday, 26 January 2022
Time: 10:00-11:30am (CET)
Dr. Fran Humphries, Research Fellow, Faculty of Business and Law, Queensland University of Technology, Australia
More info coming soon